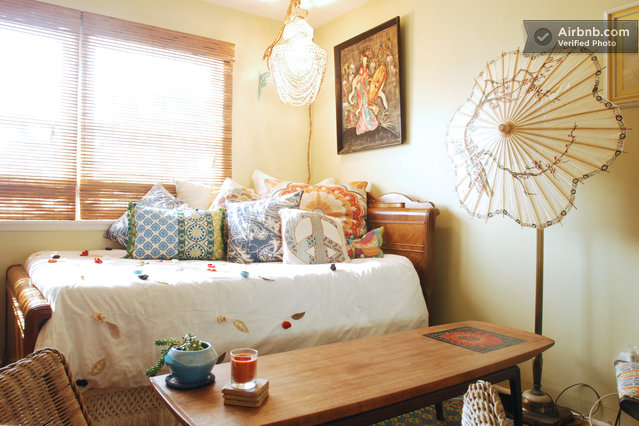 I've been using Airbnb for almost a year. I first utilized the site when visiting Paris. We had a truly Parisian experience and were able to stay away from tourist traps. The only glitch was the actual appartement. We had to run to the local grocer to purchase cleaning supplies. It took an entire bottle of bleach to clean the bathtub. Quelle Horror!
Happy to report that our other bookings went a lot smoother and I was confident enough in the service to open my home up to guests. I wrote a travel tips post about how airbnb inspired me to make a career change and travel full-time. I included a few travel tips on how to get more profile views and how to select the right guests.
Here are a few tips on how to pick the right place to ensure that you have a wonderful time and a clean pillow to rest your weary head.
Sort by Recommended
Once you input your travel destination and dates you'll be taken to a list of properties. Use the "Recommended" filter. It includes listings on the high and low ends.
Read the Fine Print
What are the house rules? Is there a security deposit or a strict cancellation policy? Always check the host's calendar before inquiring about availability. Also take a look at airbnb's FAQ page. There are big differences between booking a sublet and booking a one week stay. This also lowers the number of questions that you have to ask the host. As a host I prefer to book guests that are knowledgeable and that took the time to review the website and I don't have to act as customer support.
Amenities
 The price is nice, but are sheets and towels included? Does it have central air or heat? This is very important if you're book in Costa Rica or Alaska. And if you have a lot of luggage you might want an elevator. Europe has the tiniest ones!
Wi-Fi is important if you're traveling internationally, but you can also find free service at local eateries. My travel guide lists over 100!
Google Map It
Check out the neighborhood and utilize the street view. You really wouldn't want one of the landmarks that you see every morning to be a homeless person peeing.
Communication is Key
Confirm the price before booking and take into account that airbnb charges fees. The most annoying thing is when I accept a booking or send a special offer the guest continues to ask questions about an additional twenty dollars.
Once you book the apartment write down their contact information and ask for the street address. Confirm check in and checkout times. Contact them one week before you arrive to confirm and then the day of.
Move in day! You have arrived…to find a crack den. No worries, customer support at airbnb is available 24/7. You can contact them to book another place with less illegal activity.
Good luck!
J*
---